Aurora Morcillo Gómez
Published in 2018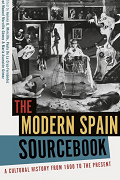 Incorporating a wide range of visual and translated written sources, The Modern Spain Sourcebook documents Spain's History from the Enlightenment to the present.
The book is thematically arranged around significant areas of Spanish history, including the arts, work, education, religion, politics, sexuality, and empire. As well as the book's overarching introduction, there are theme-specific introductions and vital historical context sections provided for the sources that are presented.
The Modern Spain Sourcebook covers political and economic history, but moves beyond this to provide a more complete picture of Spanish history through the sources selected, with gender history, social history, and cultural history coming to the fore. It is a crucial text containing a vital trove of primary material for all students of Spain and its history.