Global Protestant Missions: Politics, Reform, and Communication, 1730s-1930s
Jenna M. Gibbs
Published in July 2019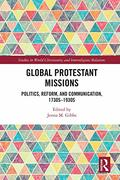 Global Protestant Missions: Politics, Reform, and Communication, 1730s-1930s investigates facets of global Protestantism through Anglican, Quaker, Episcopalian, Moravian, Lutheran Pietist, and Pentecostal missions to enslaved and indigenous peoples and political reform endeavors in a global purview that spans the 1730s to the 1930s. The book uses key examples to trace both the local and the global impacts of this multi-denominational Christian movement.
The essays in this volume explore three of the critical ways in which Protestant communities were established and became part of a worldwide network: the founding of far-flung missions in which Western missionaries worked alongside enslaved and indigenous converts; the interface between Protestant outreach and political reform endeavors such as abolitionism; and the establishment of a global epistolary through print communication networks.
Demonstrating how Protestantism came to be both global and ecumenical, this book will be a key resource for scholars of religious history, religion and politics, and missiology as well as those interested in issues of postcolonialism and imperialism.