Jenna M. Gibbs
Published in 2014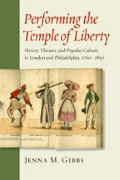 Jenna M. Gibbs explores the world of theatrical and related print production on both sides of the Atlantic in an age of remarkable political and social change. Her deeply researched study of working-class and middling entertainment covers the period of the American Revolution through the first half of the nineteenth century, examining controversies over the place of black people in the Anglo-American moral imagination. Taking a transatlantic and nearly century-long view, Performing the Temple of Liberty draws on a wide range of performed texts as well as ephemera—broadsides, ballads, and cartoons—and traces changes in white racial attitudes.
Gibbs asks how popular entertainment incorporated and helped define concepts of liberty, natural rights, the nature of blackness, and the evils of slavery while also generating widespread acceptance, in America and in Great Britain, of blackface performance as a form of racial ridicule. Readers follow the migration of theatrical texts, images, and performers between London and Philadelphia. The story is not flattering to either the United States or Great Britain. Gibbs's account demonstrates how British portrayals of Africans ran to the sympathetic and to a definition of liberty that produced slave manumission in 1833 yet reflected an increasingly racialized sense of cultural superiority. On the American stage, the treatment of blacks devolved into a denigrating, patronizing view embedded both in blackface burlesque and in the idea of "Liberty," the figure of the white goddess.
Performing the Temple of Liberty will appeal to readers across disciplinary lines of history, literature, theater history, and culture studies. Scholars and students interested in slavery and abolition, British and American politics and culture, and Atlantic history will also take an interest in this provocative work.