The Department of History at FIU offers our students the opportunity to explore the human condition, from the ancient past to the present day, in its many diverse dimensions. Students work on original sources encompassing written, visual, material cultural and oral forms.
We have collaborative ventures with partner institutions such as The Wolfsonian-FIU that facilitate and expand the learning experience. Our network within The Green School empowers our students to explore many cultural areas such as Latin American & Caribbean studies among others.
Our program includes a broad, global curriculum that features U.S., Latin American, European, West African, Asian, comparative, and transnational histories. Students acquire excellent writing and analytical skills, becoming familiar with public history theory and methods, alongside an expertise in oral and digital history.
Bachelor's students can pursue various professional pathways, becoming eligible to teach, pursue law and other graduate studies, and work on public policy issues.
Students in the master's program may elect one of four options, with considerable flexibility in the selection of courses; a public history option that explores the practical dimensions of applied history and includes internship opportunities; and a new, fully online master's.
Our PhD program stresses comparative studies and innovative transnational training in the history of the Atlantic world from pre-colonial to modern times. Many students incorporate the study of the Atlantic into their field exams and write comparative or transnational dissertations that engage with multiple aspects or regions of the Atlantic Basin.
Throughout their studies, students have access to our highly-skilled, friendly and diverse faculty who take a personal interest in their progress. We strive so that you succeed!
Rankings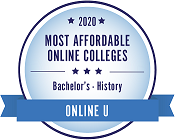 #13
Bachelor's in History - 2020 Most Affordable Online Colleges: Online U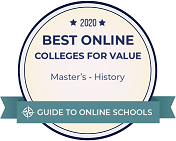 #9